In this tutorial, I'll show you how to create a Portfolio page similar to this one or this one.
Step 1 – Create a Portfolio Category With Sub-Categories
What we want to do is create a main category of projects with several sub-categories. So, for example, if you're a photographer, you might create a main "Photos" category with subcategories that describe the different types of photos within your portfolio (e.g. People, Places, Landscapes, etc). As another example, if you are a designer, you might create a main "Projects" category with subcategories such Web, Print, Logos, etc.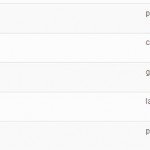 To create your categories, in your WP dashboard, click Posts >> Categories, and create your main category as well as your subcategories.
Step 2 – Create Your Posts and Place Them in Their Respective Subcategory
If you've not yet created any Posts for your portfolio entries, you'll need to do that and place the Posts in their respective subcategory.
Step 3 – Create a New Page for Your Portfolio Page
Once you have your portfolio Posts created, it's time to create the Portfolio page to display them. In your WP dashboard, click Page >> Add New. Give your page a title, and if you like, you can write an introduction in the content box. You can also leave the content box empty.
Next, on the right side of the Add Page screen, look for the Page Attributes box. Within that box, you will see a drop-down box labeled "Template." Select the Portfolio page template from the drop-down box.
Step 4 – Enter Your Portfolio Category ID in Solostream Page Options
Just beneath the Page editor (on the Add Page screen), you will see several optional settings labeled Solostream Page Options. You want to enter the Category ID of your main portfolio category, So from the Photos example above, you would enter the Category ID of the Photos category.
To get the category ID, in your WP dashboard click Posts >> Categories. Then hover your mouse over your Portfolio category. When you do that, the status bar in the lower left corner of your browser will show something like this:
http://www.mysite.com/wp-admin/edit-tags.php?action=edit&taxonomy=category&tag_ID=3&post_type=post
In the above example, the category ID is 3.
Step 5 – (Optional) Change the Page Layout Setting
Also found in the Solostream Page Options is the Page Layout field. You may want to select the Full-Width page layout, but feel free to play around with the different options until you get the page to look the way you like.
Step 6 – Publish Your Page
Finally, click the Publish button, and you now have a new Portfolio page.