If you look at the home page of this site, you'll see the featured content slider at the top. It's very simple to add the featured content glider to your site. Follow these simple steps, and you'll have it done in no time.
1. Activate Featured Content on the Theme Settings Page
On the Theme Settings page, click the link for "Featured Posts." You'll see a setting titled "Featured Posts on Home Page." By default, this setting is set as "No." If you'd like to place a Featured Content slider on the home page, simply select the narrow featured slider.
The default setting will display up to 5 featured articles, which is the maximum number that can appear in the slider.
Select Some Posts to be Displayed in the Featured Content Section
If you want a post to appear in the featured content section, simply tag the post as "featured" (without the quotes). To add a tag, simply find the "Post Tags" metabox on the right side of the Add Post screen and enter it there. If you don't see the Post Tags metabox, click the "Screen Options" tab in the upper right corner, and activate it.
Please Note: The slug for the "featured" tag must be featured for the slider to show posts. Make sure that it's not "featured-2."
Adding Featured Article Images
1. Featured Content Image Size – The ideal image size for the featured content slider is 500px wide by 300px high.
If you need to re-size an image, you can now do so through the WordPress image uploader and editor. If you're not sure how that's done, see this video.
If you don't resize your images, the theme will resize them automatically for you.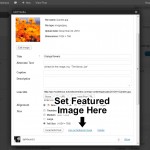 2. Selecting Your Featured Image
The simplest and best way to select your post thumbnail or featured article image for a post or page is to upload the image, and then select it as the Featured Image (click thumbnail to the right).
You can also use the Featured Image metabox that appears on the Add Post/Add Page screen. If you do not see this box, click the "Screen Options" tab in the top right corner, and select it from the list of options.
3. Multiple Images in a Post or Page
If you upload multiple images to a post or page, the theme will use the #1 image in your post gallery (see thumbnail to right) as the featured article image and/or thumbnail.
Using Video With the Sliders
If you'd prefer to show a video in place in your featured image, simply paste your video embed code into the "Video Embed Code" field found just below the post editor on the Add Post or Edit Post screen. The dimensions used in your embed code will be converted to the proper size to fit in the Featured Content section.
About the Author: Michael